I've finally reached the point in therapy where we talk about present challenges. Although up to now there has been present application, such as talking about work life and not allowing mental "issues" to undo or undermine present intentions, almost always we end up back with childhood conditioning and trauma. We mostly acknowledge those things, allow air to circulate, pay attention to the way I may be speaking to myself about it all. I get to hear and let myself be heard.
Sometimes my therapist yawns, and that's okay, in fact I like that. If we were friends camping outside under the stars having an intimate conversation, we'd be yawning too. After a while I tell the stories I've been most afraid to because 1) who would believe them, 2) who would care, and 3) how will I recover if I let that out now?
Usually I'm instructed to write about things if I can (my therapist is a writer, too), which in my case is a very good thing. The goals I brought to therapy this round? 1) to handle my mother's rejection and abandonment of me after my grandfather died, 2) to be able to write (really write) in a connected way, again.
If you've ever seen the magnificent film Spirited Away, there is a scene in which a putrid spirit no one wants to deal with arrives at the bathhouse, and therapy sessions are like that. Whereas in the film the spirit can be dealt with fairly quickly, in therapy it may take years (and years). The issue may introduce itself right at the end of a session about some light thing, then not be seen again for a while.
But one day, if you're very patient and gentle, and if everything aligns just right, you nudge and something loosens… the most astounding thing!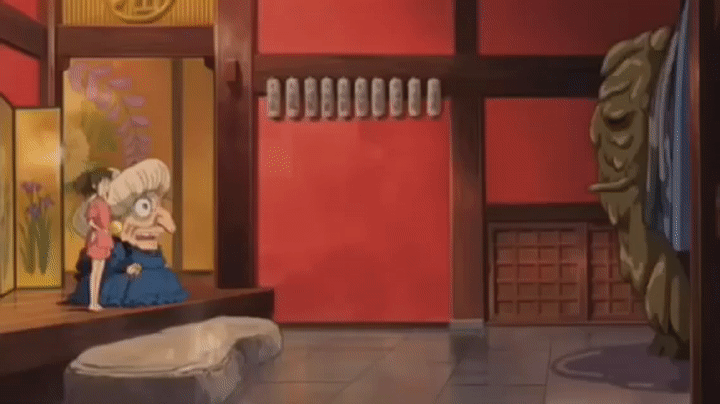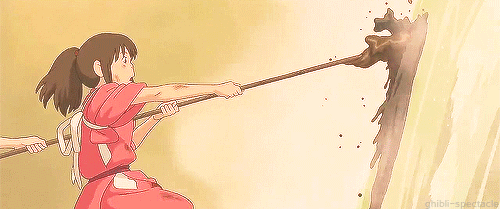 If you've ever experienced this, you know. And you know that just like in the film, there are treasures in the wake of such catharsis. In the case of the film, the spirit who is released is a River Spirit and protector of a polluted water way that needs to flow again for the sake of everyone around!
Once able to begin integrating the release which happens, that returning to true form/re-set a good therapist can midwife, there's a feeling of competency that might have been illusive before. "I can bear to tend to my present life in a more active way!"
My intuition about what's to come is that the process won't be much different, although of course I can't really know. I do know that the conversation we began this week felt CURRENT, as though we've been promoted to working with advanced AI rather than repairing rotary phones.
There are some topics I'll begin to explore more openly and write about now, having to do with the gender spectrum and sexuality, parenting and growing old, but mostly the idea is to relax a bit and explore 'whatever' in an authentic fear-free way.